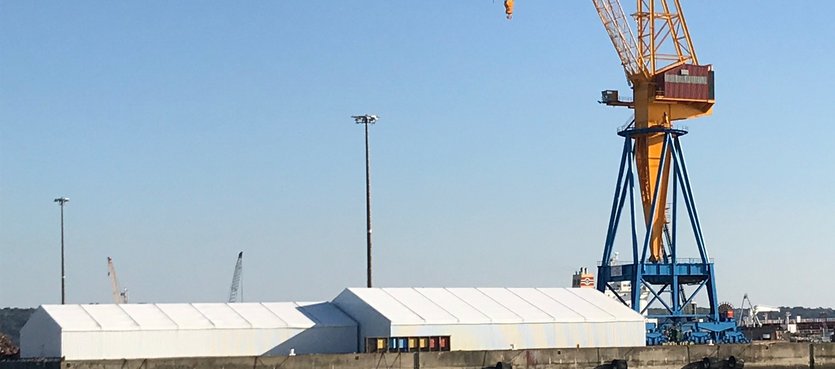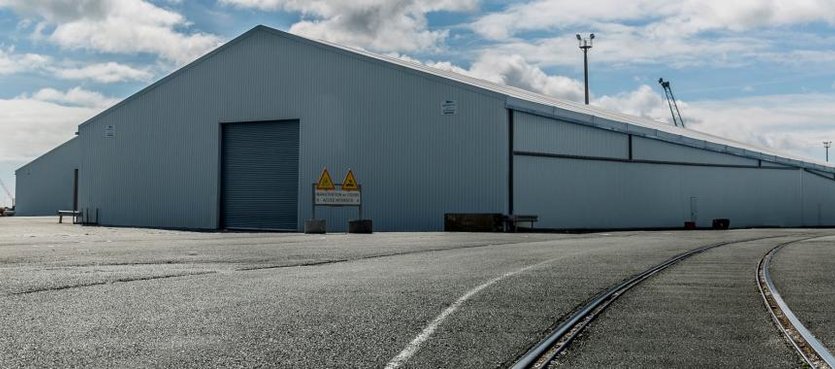 Cover maximum surface in minimum time with Spaciotempo
Do you need to quickly increase the volume of covered storage on your port site? The construction process used by Spaciotempo means your buildings will be available within a few weeks, for rental or purchase, directly on your platform. Whether your need is temporary or permanent, for bulk or temperature-controlled storage, we have a solution.
For more than 30 years, our expertise and know-how have given us the ability to advise you on innovative storage solutions that are adapted to your needs in terms of dimensions, insulation and equipment. We directly manage the entire project: consulting, design, manufacturing and assembly. If an adaptation of the structure is required, we perform it with the support of our design office and our manufacturing plant.
Solutions adapted to the term
We offer buildings specific to each project, both in terms of dimensions, structural forms and equipment. For rental, we offer the most relevant solutions to reconcile your need, your budget and the expected operating time. We have a large stock allowing us to propose a fast and economic deployment of our buildings on your site.
Why choose the Spaciotempo neivalu warehouse?
Solidity assured in exposed port site
Port facilities are particularly exposed to the wind. Our solutions comply with the climatic constraints of the installation site according to NV65 or Eurocodes, and take into account the "area exposed to the wind" criterion. Our frames are sized to guarantee total safety of people and stored items, and ensure you business continuity 365 days a year.
Our buildings are rented to meet temporary needs. That allows you to take advantage of a temporary additional logistical space, over 3 years for example, and adapt your available storage volume to your activity level. The building is then dismantled at the end of the contract - or after its prolongation - and the platform returns to its original configuration. Our offer is based on a large rental stock for a competitive and responsive solution.
In most cases, the installation of our buildings does not require the creation of specific foundations and can be done on an existing platform. As a rental, reactivity is optimal with standard equipment, with 3 to 4 weeks between the order and the beginning of the assembly. For a purchase, 4 weeks of supply and factory prefabrication plus a few days for construction will see the completion of your storage building. Our process and our know-how guarantee you optimal quality in the shortest time.
We offers structures whose dimensions (width up to 40m or more on studies, height 9m) allow you to store large volumes. Our process of over-pressed membrane cover ensures audio, thermal and visual comfort. The diversity of our equipment permits numerous applications: bulk storage, temperature-controlled warehouse, customs control area, classic ground or pallet storage, transhipment area, etc...
To contact a specialist or for more information on our buildings, do not hesitate to call us on 00 33 3 22 51 51 51 or click here.