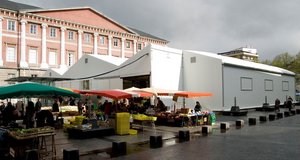 Need to rent a market hall during renovation work in your town or city? As a designer, manufacturer and builder of demountable buildings, Spaciotempo will support you throughout your project by considering all your operating constraints.
Unlike the CTS event tents whose stability is calculated for a maximum wind speed of 100km/h and 15kg/m² of snow, our solutions comply with the climatic constraints of the installation site according to NV65 or Eurocodes in order to guarantee the safety of merchants and customers, and of course business continuity. You can operate your building without risk of closure due to snow or wind. They fully meet the standards for buildings open to the public.
Our buildings are designed with a curved or double gantry frame, and can receive different types of cladding facades and equipment to make your covered market a tailor made and personalised structure that integrates with the architecture of its urban environment.
The dimensions of our structures allow you to accommodate a large number of traders: their free span extends up to 40m or more on study. Our over-pressed roofing process is the only one of the various membrane cover technologies to avoid the formation of condensation, while ensuring perfect tension of the cover. In addition, the translucency of the membrane allows it to benefit from natural light which provides both comfort and savings.
Thanks to our construction process and the ability to dismantle our buildings, our solutions offer an unrivalled flexibility for a temporary or permanent installation.