All-terrain, light and moveable industrial tent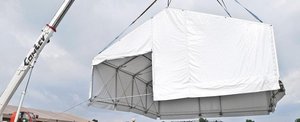 The Spaciotempo Mobicover industrial tent is particularly suitable for moderate-sized and time-limited projects.
Ideal for sheltering your teams and your equipment during works, and very easy to assemble, Mobicover is a solution that is always available on your sites thanks to its small semi-trailer storage space.
The tent can also be used as a storage space for periods ranging from a few days to a few weeks, providing economical protection of your inventory from the elements, or to cover a work area and shelter your teams and equipment.
Thanks to its lightness and its design, the industrial tent is easy to use: it can be erected, moved and dismantled quickly so that you have the benefit of a mobile shelter at your disposal according to the needs of your site.
You can find more details here.