Temporary or permanent sales areas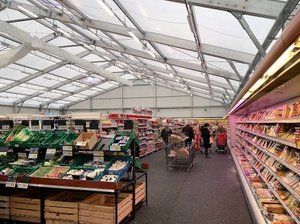 From the rental of a professional marquee to the construction of a real demountable store, passing through the exhibition tent, in a few weeks you can benefit from a structure that meets the standards for establishments open to the public and tailored to the reception of your customers.
Whether your needs are for a simple tent or a fully equipped building with system of temperature control, lighting, glass doors or windows or interior layout, Spaciotempo offers turnkey solutions dedicated to the world of distribution.
As part of a temporary or seasonal installation, the rental of a Spaciotempo demountable marquee is feasible in a very short time on your site, and available throughout France, for projects lasting a few weeks to several months thanks to our large rental stock and national coverage.
For a long-term or permanent installation, our demountable building solutions meet both your operating constraints and the expected level of comfort for your customers and employees.
Our approach ensures strict compliance with regulations and standards related to fire safety and climate loadings, as well as offering financial flexibility. Rental of tents, professional marquees or true commercial buildings, Spaciotempo offers solutions for enclosed areas allowing you to maximise your turnover.