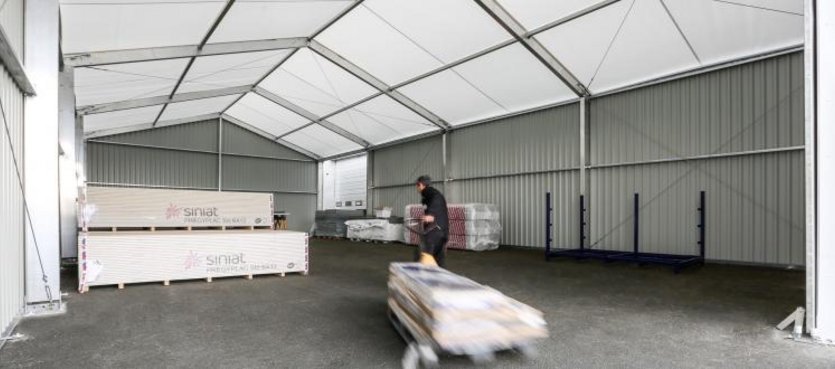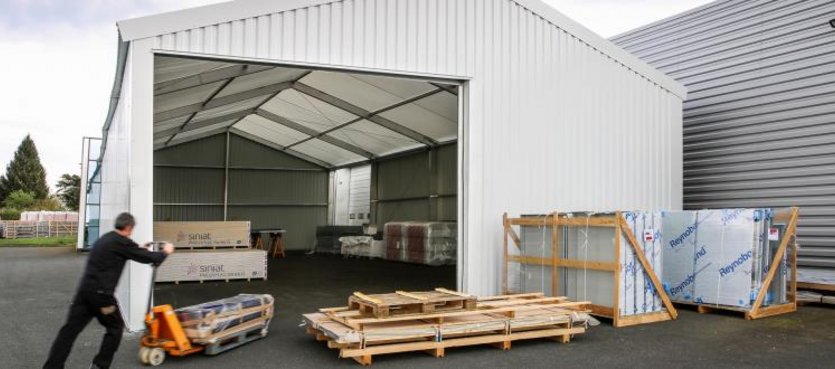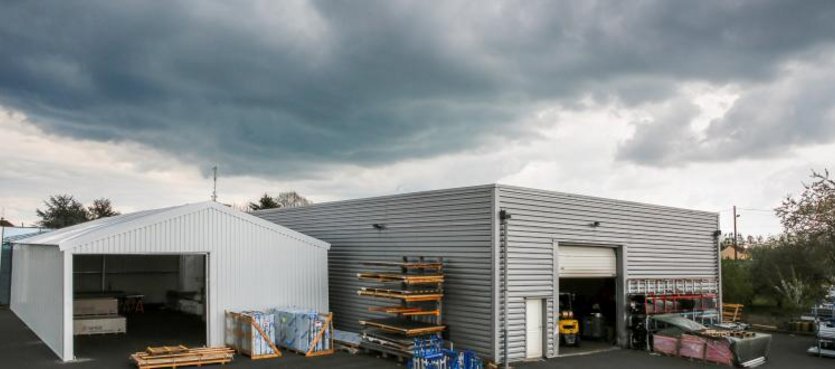 Applications
Storage: protect your teams and your equipment
When you have to cover big bags, goods pallets, maintenance equipment....
From 10 to 20 metres free span and with a height of 4 metres, the Easycover industrial tent allows you to temporarily cover your stocks over several hundreds or thousands of square metres, in just a few days. It lets you manage your activity peaks in the short and medium term and follow the seasonality of your business.
Warehouse overflow
Easycover metal textile tops are an ideal and economical logistical solution to absorb a spike in activity related to the signing of a new contract, or the reorganisation of your goods flows. The renting of our turnkey solution makes it possible to precisely evaluate, for the given period, the expenses related to the covered area.
Response to a claim
Have you suffered a disaster on your site and need to quickly set up a storage marquee solution to resume your business? Easycover storage tents are quickly erected to offer you a secure storage solution on your site. This way you avoid the costs of temporarily relocating your business to another site, keeping your business address and continuing to use parts of your production tool during the works. Once the lease is over, the building is dismantled and the site returns to its original configuration.
For insurers, compensation for operating losses is substantially reduced.
We invite you to contact us to discuss it, whether upstream as part of your BCP (Business Continuity Plan), or following a disaster to promote a rapid recovery of activity on site.
Characteristics
Simplicity
Looking for a quick and easy solution to store your products and equipment, or to cover a maintenance area?
Optimised structure for simple needs, the Spaciotempo Easycover structure meets the challenges of industrialists with fast installation time and standardised dimensions. The Easycover industrial tent is especially suitable for rental.
The Easycover temporary industrial tent conforms to the European standard NF EN 13782, specific to temporary tents.
Speed of implementation
When you are facing a peak of seasonal activity or want to protect your teams and equipment from the weather for a short time. The Spaciotempo Easycover structure has been designed to efficiently answer the simplest storage or maintenance area needs.
The Easycover storage tent is anchored by steel rods or dowels, providing a solid and reliable rental structure.
The standardisation of the range ensures a constant stock, which makes it possible to offer assembly deadlines of just a few days. Our teams operate faster on site thanks to the well thought out design of the structure.
Flexibility
The ability to dismantle the Easycover industrial tent makes it a preferred solution for production companies who with this solution have an adjustment variable for their stock fluctuation.
During the entire rental of your industrial marquee, you can relocate your structure according to your needs.
Financial Solutions
Short-term rental: flexibility and responsiveness
If you need to preserve your cash flow, control your flows on your production site and adapt your storage area according to the variations in your business, Spaciotempo allows you to vary your costs through the short-term rental of industrial marquees.
Equipment and configurations
General description
The Easycover structure consists of a two-sided aluminium frame and galvanised steel elements, sized according to standard NF EN 13782.
The free span is 10m, 15m or 20m, the length is in segments of 5m.
The lateral height is 4m.
The roof, in highly resistant polyester membrane with PVC coating (translucent white) offers a Euroclass B S2 D0 fire classification.
The facades are clad with single-skinned white steel throughout the periphery, including the gable end.
Facilities
In order to meet your needs with respect to the protection of your products, the essential equipment for industrial exploitation is offered with this product.
Anchoring by steel rods on heavy roadway 50MPa and mechanical dowels on concrete support
Manual sliding doors 4.80m wide, and 2.60m or 3.60m high, single door for a lateral opening, or 2 for a central opening.
Anti-panic pedestrian door
Lighting with double fluorescent strips
Steel gutters