This story of metal parts is one of waiting in the open air for their time to come and consequently wearing out before their time... That was the problem facing one of the world's largest suppliers of lifting solutions. But the story has a happy ending: a 300 m² awning now offers shelter to these threatened cranes...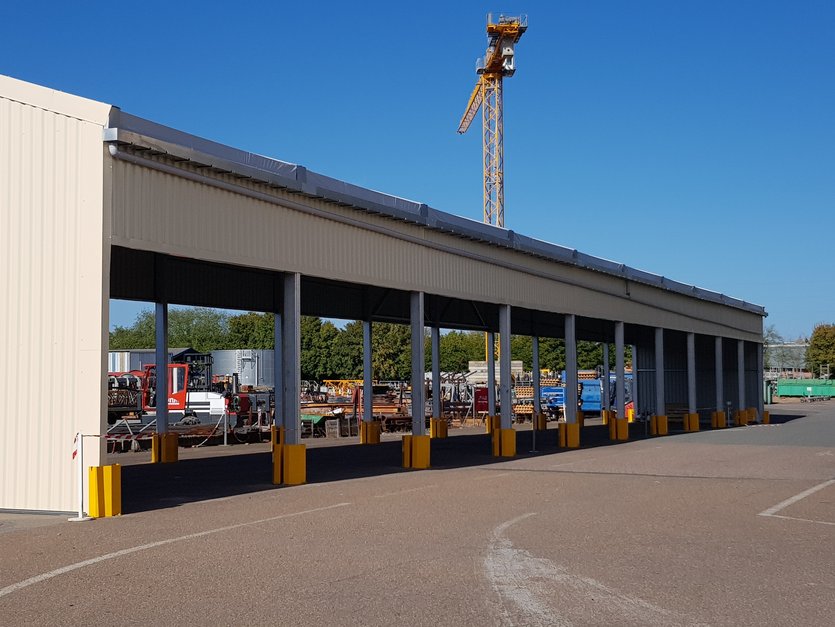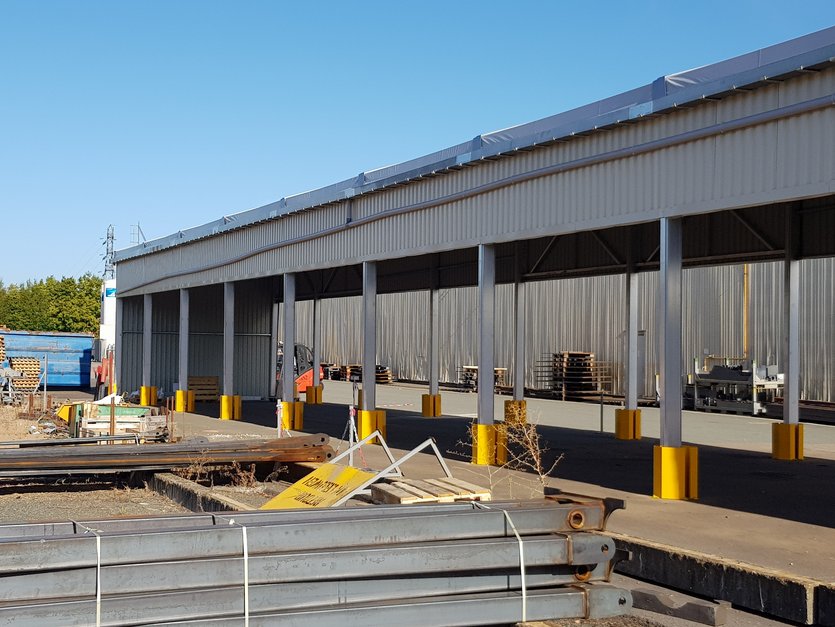 All under cover!
After acquiring a first Spaciotempo building, the client company expressed a new need: to house metal parts used for the manufacture of cranes and elevators, stored outdoors, suffering from the heat and rain. Exposed to the four winds, these metal parts wore out and degraded quickly, too quickly. For the manufacturer, it was urgent! It was necessary to find a solution to place these items in the shelter of an awning. But there were several constraints: the awning had to be installed in a small area, located between an existing building and a roadway, on terrain which, by way of a bonus, offered a rather chaotic unevenness.
A made to measure service...
How was it possible to build an awning of 300 m² on a completely non-linear slope? The Spaciotempo teams worked the project by choosing to adapt a Neivalu building. A surveyor first surveyed the terrain in order to obtain accurate measurements. Based on this data, the dimensions of the posts were adjusted. To compensate for the slope, their height varies, ranging from 5 metres high for the shortest to 5.44 metres for the longest. The dimensions of a classic Neivalu awning were also adapted to the space available, with a width of 6 metres being adopted. Finally, the production site being located close to a classified French building, Spaciotempo had to find colours for the cladding and roofing that met aesthetic requirements.
Circulate!
While the awning has to allow the storage of as many metal parts as possible, it has to also facilitate the movement of forklifts coming to deposit or remove the parts. To reconcile these two requirements, Spaciotempo suggested completely opening the awning along its 50m length, without recourse to the usual X-shaped bracing cables, which occupy the entire span down to the ground. They were replaced by 1.30 m high gantries, placed at roof level. This facilities the movement of the forklifts, while protecting from the wind.
One week of construction, stopwatch in hand
Despite longer lead times, due to the specific dimensions of the structure, the construction site was launched eight weeks after the project was signed. In just one week of construction, a building of 300 m² came to fruition, while respecting the maximum security requirements requested by the client. From now on, future cranes can watch the rain fall without getting wet, well sheltered under a comfortable awning.
Technical specifications of the building
Type: Neivalu awning
Dimensions (width x length x height): 6m x 50m x 5m
Roof: single skin membrane
Facades: reduced cladding over 1.50 m
The advantages of spaciotempo for this project
Its technical skills that allow it to adapt to specific needs
Its ability to meet very short deadlines
Its mastery of buildings dedicated to storage, enabling it to find solutions to improve storage and circulation capacities