You may have already noticed by walking around the shelves of DIY stores, that most of them have been revamped in the last few years. These works, as significant as they are impressive, require the temporary immobilisation of certain areas. A market leader in the sector called on Spaciotempo so that one of its stores could remain operational during the renovation work...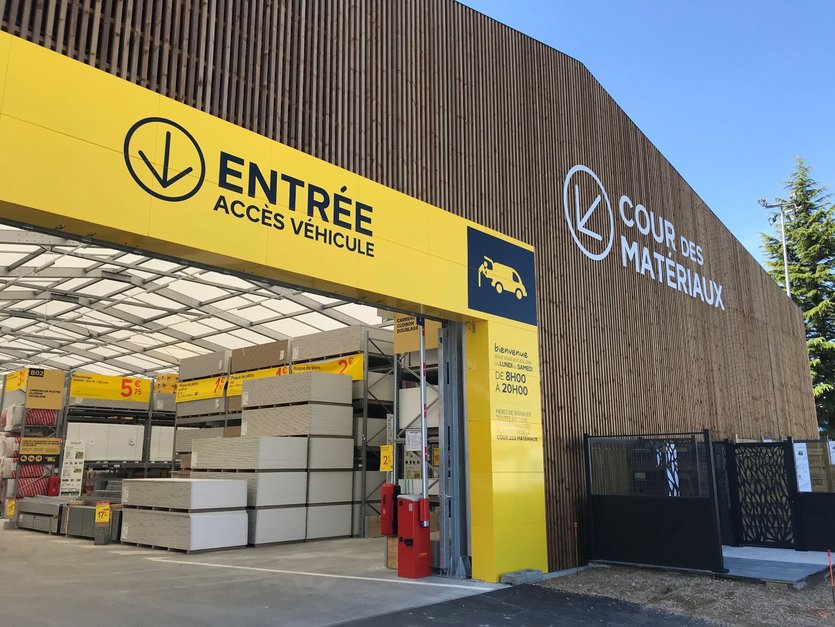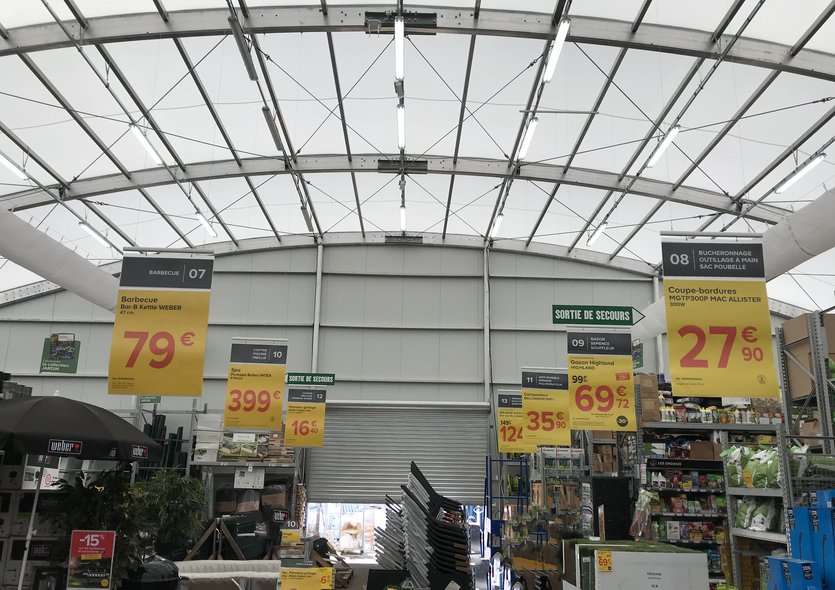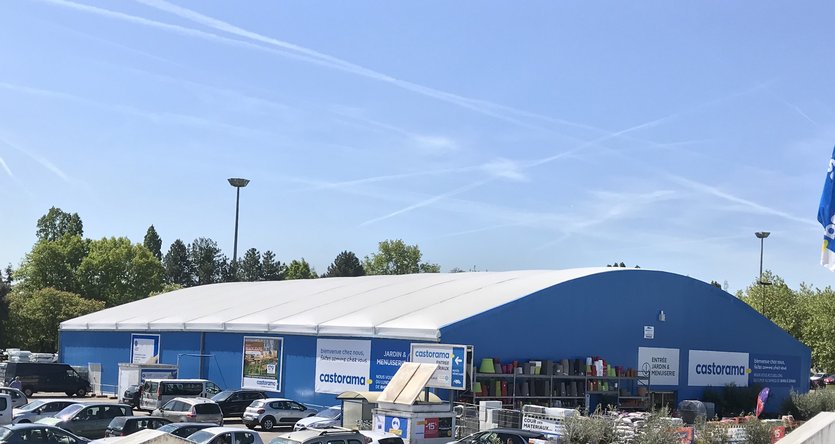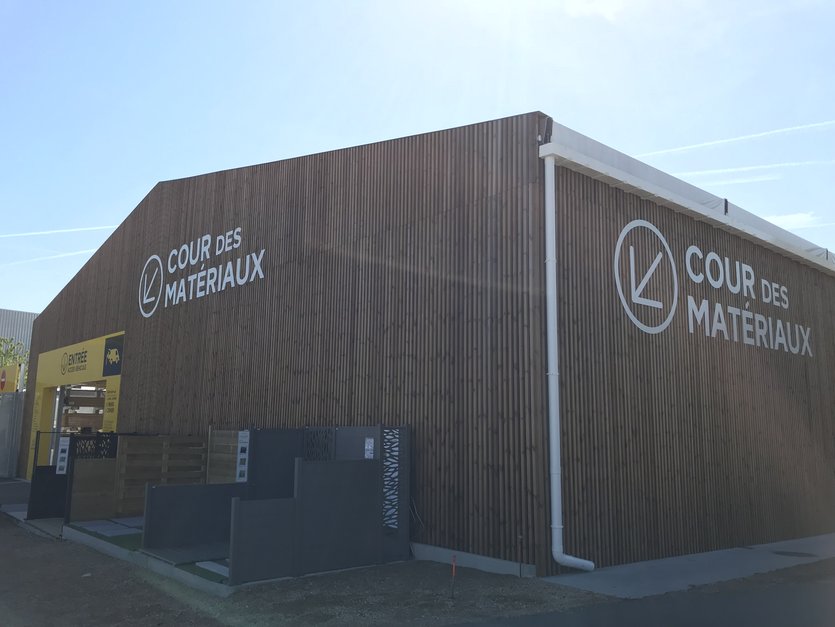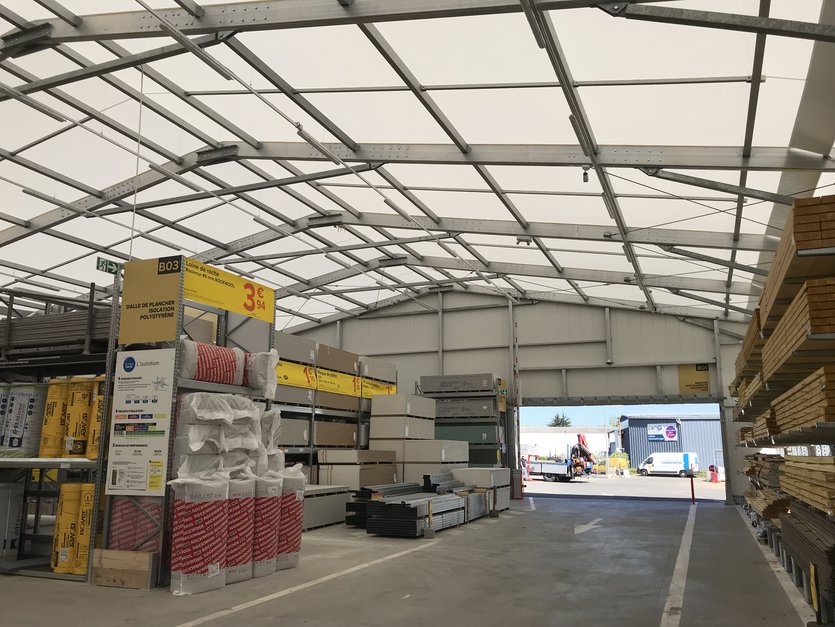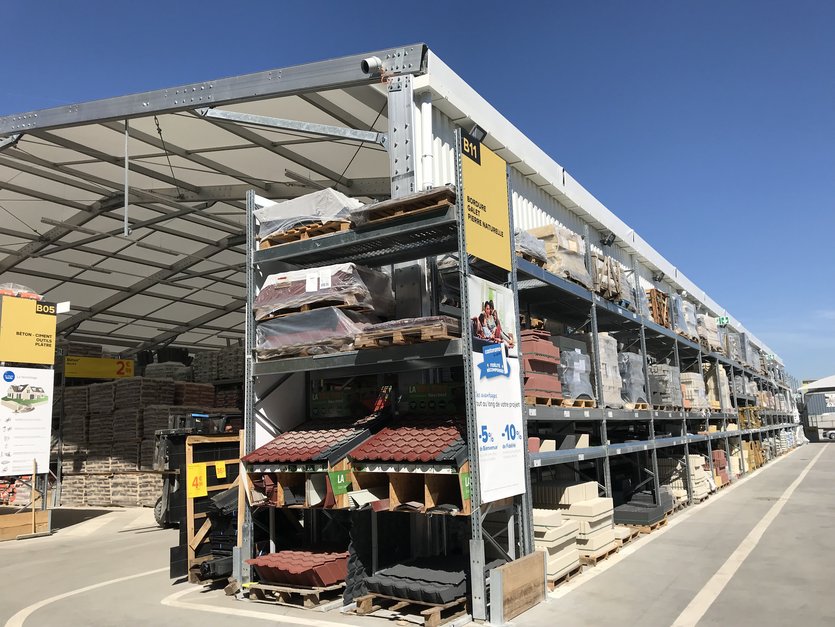 Retail players seek to boost the dynamism of their sales outlets when looking towards the long-term. But in the short term, there is no question of closing up shop! Before embarking on its renovation project in Nantes, a major DIY brand had to address two major issues: the reception of customers, and the management of the available space.
Objective of the operation: to avoid total immobilisation of the store. A double problem that the Spaciotempo team solved by proposing two separate buildings: a temporary sales area in the brand colours and a storage building with specific properties, all in a coordinated timed period.
Two independent, complementary structures ... Made to measure
So that the activity of the store did not suffer due to the works, the temporary point of sale had to be delivered in record time. The client chose to install a demountable Oxygen building, with a curved frame, installed in just ten days in the store's car park. With its aesthetic advantages, integrated heating, and cladding in the brand colours, the building offered an identifiable and pleasant space for customers to come to shop with confidence.
In parallel, Spaciotempo responded to a request for an extension of the store, by storing DIY items outdoors. On this site, the 14° slope of the roofs implied changes in the structure of the building itself, with specific load distributions.
Rapidity and timeliness, thanks to total control of the value chain
Proficient in manufacturing, the Spaciotempo team called on its qualified design office to draw up a custom Neivalu building. Based on a wasteland, and requiring the installation of a concrete slab, the construction was initially delayed by a very harsh winter. But the various teams mobilised were able to demonstrate great capacity for adaptation and reactivity to ultimately respect the deadlines set. Despite the setback due to the extreme weather conditions, the Neivalu building was set up in just 10 days. Contacted at the end of November, the Spaciotempo team delivered two separate fully operational buildings in January (one rental, the other purchased).
The end result perfectly matches customer expectations. Demonstrating the versatility and know-how of Spaciotempo, this operation has created a climate of trust and generated other partnerships of this type at several sites in France.
Technical specifications of the 2 buildings
Type: Curved Oxygen building
Dimensions (width x length x height): 35m x 45m x 5m
Roof: compressed membrane
Facades: 50 mm rockwool insulated cladding sandwich panels
Heating: oil by micro perforated sheath
Type: Neivalu double-gable with specific slope
Dimensions (width x length x height): 27m x 55m x 6m
Roof: compressed membrane
Facades: single skin steel with wood cladding